Good thing Halloween is coming because that's just spooky
Superman/Gen 13!
I really dug that mini, and then some. It needs to be in digital yesterday.
How about Gen13 v1 covers, @AkBandit? Maybe a sprinkle and a dash of DV8 as well, please?
@Vroom The 13 variant covers of Gen13 #1 (1994), plus the newsstand cover (First one)
I bought this set when it first came out. Mine has the Jim Lee autograph on the chromium puzzle cover. I also picked up a Brandon Choi auto cover later.
@Vroom and now some Dv8 variants.
amazing stuff as always, thank you!
These are all great but really like this one. It reminds me of Boris Vallejo's art I'd see in the 80s'
Is it a Heavy Metal tribute cover?
This cover was done by Heavy Metal magazine artist Simon Bisley and with it he paid homage to artist Frank Frazetta. Sort of like this example of Frazetta's work.
Brought some Sandman today. Plz enjoy
The Dreaming 2

such a strange style, but it looks so good!
Totally. That's what I like about it tho! lol And @AkBandit you're spoiling us again.
Thank you! Love the paper doll Gen 13! Paper dolls should make a comeback!
I'm both frightened and intrigued by this cover…
Thank you kindly for the Wildstorm hookup!
Variants for today's/this week's new releases: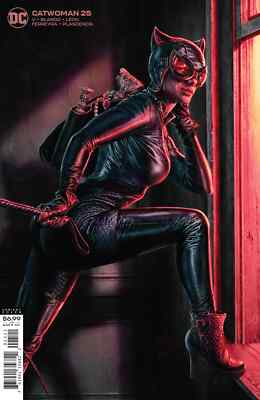 My favorite variant for 'Tec #1027:

NICE!

Also thank you for the Catwoman.
@AkBandit Agree. That cover from the Dreaming is
a lot of things. I dig it.
Ok Let's do some Artgerm…a couple… I think may already be in here, but please enjoy them anyway.
You are most welcome.
Speaking of your Artgerm pieces Razzz, I was at the comic store yesterday and they had oversized lithos of his Power Girl and the STAS Supergirl. I don't buy art like that, but they were both mighty impressive.
waaaaaow. Thank you
Legion of Super-Heroes…Jim Lee variants.
Who's a good boy? Whoooo's a good boy? You are Krypto for being on these variant covers with Supergirl.
Streaky is not a happy cat!!!
Calm down Streaky we'll send you some love too.
cuteeeee