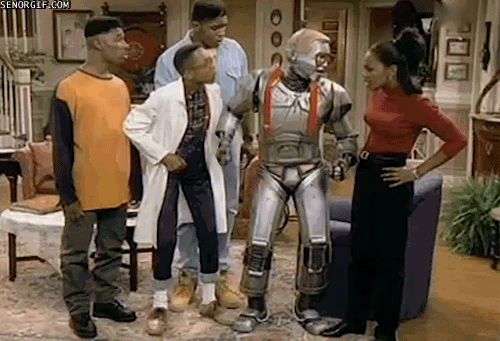 All right friends… I see you wrightline…Mayhap I will get dinner in a moment… I love you all… but I see so much typing… Do I wait? Do I feed?
Is this our life now?!
THERE IS NO ESCAPE FROM US!
Give me your all time favorite runs/stories on Batgirl and Supergirl
I want to read your recommendation for our favorite characters. That should be a weekly feature lol AJs DCU pull list
A sweepstakes with the "grand prize" of seeing Stargirl a day earlier than CW, if you are a DCU member???
Never really dove into Supergirl to be perfectly honest, but Batgirl Year One and Batgirl of Burnside are my favorites; Burnside when I'm feeling a little more playful though, if I'm not in the right mood it can be too light for me.
Let me revisit when I've given my brain the protein it craves!
A SPITTING IMAGE OF ME!
Applejack: Any last requests before I eat?
DCU Members: Could you perform the entirety of H.M.S. Pinafore?
All right, friends- I'm afraid I must politely excuse myself in order to not so politely eat some tacos.
Thank you all so much for all your questions, the laughs, and really just the memories. I freaking dig you cats.
GOOD NIGHT APPLEJACK and STAY HEALTHY PLEASE WE LOVE YOU!
OH YES, AND ALL OF YOU STAY HEALTHY AS WELL!
Have a good night! Enjoy those tacos!
Aaaannnd … here comes Mr. Ramble Rouser!
Been playing catch up on the animated Batman-Brave & the Bold (available on site, natch). I suspect that Bob Haney would have very much approved of the creative freedom showed there. Freedom, I doubt DC would have permitted, back on his run. When editors kept a much shorter leash on their books.
In watching the James Bond style "minis" preceding opening credits, I am reminded of all the other fine "shorts" from DC Nation, that ran from 2012-14. As varied in style as they were in characters presented. Any more of those in the works?
And second, I can't be the only one to notice this. But, I am bothered by something. The way Kevin Conroy's Batman portrayals gets put on a pedestal, but Diedrich Bader's work on BB&B goes unnoticed or acknowledged, as far as I can see. People praise the show (and rightfully so). It's even an existing topic in Trending Discussions. I've added to it, myself. But Bader's work there as Batman, seems to have fallen on deaf ears.
Like Conroy, his unique baritone delivery, carried the show for 3 seasons. Supported by fine secondary talents of course. All under the direction of Andrea Romano. I think even Mr. Conroy would acknowledge the excellent past work by his fellow actor, and voice-over artist. Seems a shame that more members of our litle community haven't recognized this omission. And if I'm to be the only one, so be it.
Time to give this performer his well earned , and just due, as the " other " voice of Batman. As the great Stan Lee used to say, 'Nuff said!
I knew there was a reason I liked you…we both have an evil streak.
Sorry 'bout my timing AJ. Looking forward to your response and return…
Same Bat-time, same Bat-channel!
PS - Thanks Knox!
You too Reagan!